Latest Fed Data Suggests Rates Will Continue to Rise
Published on March 26, 2018
The most recent Underlying Inflation Gauge data combined with last week's Federal Reserve actions point to higher rates ahead.
The recent news out of Washington (tariffs/trade wars, budgetary impasses, spending bills and turnover of senior U.S. government officials, etc.) has put a bit of a scare into the markets, temporarily driving rates lower as investors seek safe haven.
But last week the Federal Reserve (Fed) provided three strong indicators that over the near to medium term interest rates are likely to continue rising, creating challenges for fixed income investors:
The Underlying Inflation Gauge (UIG): The Full Data Index for February, released on Friday, March 23, rose to 3.06%. This was an increase from an upwardly revised 3.01% reading for January and demonstrates inflationary pressures continue to mount. The UIG Prices Only Index also rose to 2.20% from 2.17%. (Note that unlike CPI, UIG is a forward-looking inflation indicator. For more information about the index, watch our latest video.)
The Dot Plot: The quarterly update to the Federal Reserve's "Dot Plot," with its projections for the Federal Funds Target Rate, showed mild upward change in 2018, with larger increases in the 2019 and 2020 medians, as well as a modest rise in the longer term median.
Fed Funds Rate: On Wednesday, March 21, the Fed voted unanimously to raise the Funds Rate 25 basis points (0.25%) to a range between 1.50 - 1.75%. They also said they expect to lift rates another 2-3 times this year and an additional 3 times next year.
We think the rise in UIG is particularly important. The chart below demonstrates the steady rise in UIG All Data, from 1.77% in February 2016 to 3.06% today. This compares to the somewhat more volatile trajectory of headline CPI, from 1% to 2.7% and back down to an optically tame 2.2%.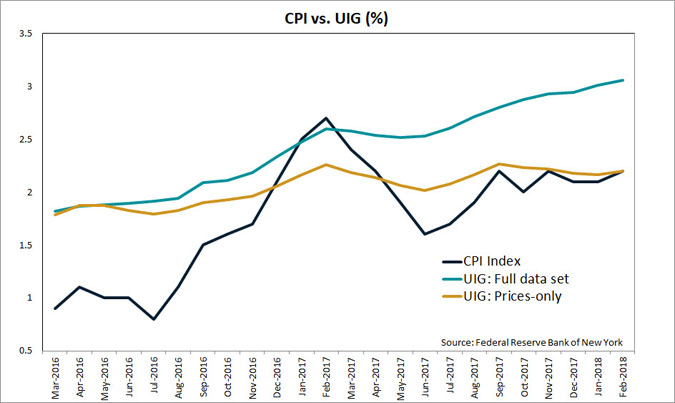 Given that inflation is the largest factor impacting long-term interest rates and that the Fed is accelerating its tightening cycle, we feel that investors should not be complacent with their fixed income portfolios. The data provide strong evidence that inflation is increasing both on a spot and forward looking basis, and we expect this trajectory to continue so long as the Fed Funds target rate remains relatively low on an historical basis.
Eddy Vataru
Vice President & Senior Portfolio Manager
Written by
Eddy Vataru

View Bio

Eddy Vataru

Vice President & Senior Portfolio Manager

Eddy Vataru graduated from California Institute of Technology (B.S. Chemistry & Economics) and from Olin Business School at Washington University in St. Louis (M.B.A.). Mr. Vataru holds the Chartered Financial Analyst designation.

Prior to joining Osterweis Capital Management in 2016, Mr. Vataru worked in senior management positions at Incapture, LLC and Citadel, LLC. Before that he spent over 11 years at BlackRock (formerly Barclays Global Investors), where his last position was as Managing Director and Head of U.S. Rates and Mortgages. While in this role, BGI worked with the U.S. Treasury in implementing its Agency MBS Purchase Program, buying mortgages for the U.S. government from 2008-2009.

Mr. Vataru is a principal of the firm and the lead Portfolio Manager for the total return fixed income strategy. He is also a Portfolio Manager for the flexible balanced strategy.
Account Access
Email Update
Opinions expressed are those of the author, are subject to change at any time, are not guaranteed and should not be considered investment advice.
Mutual fund investing involves risk. Principal loss is possible. Investments in debt securities typically decrease in value when interest rates rise. This risk is usually greater for longer-term debt securities." to the blog post page. Since the content is limited and not fund specific therefore I will not require full detailed risk disclosure.
Duration measures the sensitivity of a fixed income security's price (or the aggregate market value of a portfolio of fixed income securities) to changes in interest rates. Fixed income securities with longer durations generally have more volatile prices than those of comparable quality with shorter durations.
Consumer Price Index (CPI) is a measure that examines the weighted average of prices of a basket of consumer goods and services, such as transportation, food and medical care.
The Underlying Inflation Gauge (UIG) captures sustained movements in inflation from information contained in a broad set of price, real activity, and financial data.
The Federal Funds Rate is the rate at which depository institutions (banks) lend reserve balances to other banks on an overnight basis.
A basis point is a unit that is equal to 1/100th of 1%.
Osterweis Capital Management is the adviser to the Osterweis Funds, which are distributed by Quasar Distributors, LLC. [27350]
The Osterweis Funds are available by prospectus only. The Funds' investment objectives, risks, charges and expenses must be considered carefully before investing. The summary and statutory prospectuses contain this and other important information about the Funds. You may obtain a summary or statutory prospectus by calling toll free at (866) 236-0050, or by visiting www.osterweis.com/statpro. Please read the prospectus carefully before investing to ensure the Fund is appropriate for your goals and risk tolerance.
Back to Top